The One Milestone That Eluded King Of Reggae Bob Marley
---
The King Of Reggae Robert Nesta "Bob" Marley conquered every corner of the globe and yet was frustrated by one elusive milestone – breaching the Black American market. Reputed Marley historian Roger Steffens recently told the Sunday Observer that at the time of his death, Bob Marley's big plans included "creating a Jamaican Motown" with the likes of Burning Spear, and others signed to the Tuff Gong imprint in 1980.
Marley's final album Uprising was very much geared towards the African American demographic and was an attempt to break into the tricky overseas scene according to the Reggae archivist. With classics like Redemption Song and uptempo cuts such as Coming in From The Cold, the compelling record hardly found favor with the disco-oriented audiences tuning in to Diana Ross, Billy Ocean, and Michael Jackson's Off The Wall.
"I think it was going to be his final Island album, but it was also his farewell. He knew he was dying," Steffens said. "He was about to sign a US$10-million agreement with Polygram to distribute music by artistes signed to his Tuff Gong label."
"He (Marley) gave Danny Sims (former manager) US$80,000 to get his disco song Could You be Loved onto black radio and even then, it didn't become a big hit with the black community. And that was the biggest disappointment I think of his life…the fact that he couldn't reach the African-American audience," Steffens told the outlet.
Steffens also outlined how this one aspiration took over the last years of Marley's life, and kept him touring with a debilitating illness. The Gong opened for Stevie Wonder (who later paid tribute to the fallen superstar with the song Master Blaster) on his US tour in 1980 at Harvard Stadium in Boston, plus an additional six shows at the Apollo Theater in Harlem, New York.
This effort continued on the Uprising Tour where Marley opened two shows for The Commodores at Madison Square Garden on September 19 & 20. After exerting himself for months, Marley collapsed while jogging in Central Park in New York City on September 21, 1980 and subsequently went into treatment for the cancer ravaging his body.
Though one of his most widely known songs, I Shot the Sheriff, addressed the American police institution and was covered by American guitar hero Eric Clapton earning him a No. 1 hit, Marley's ideology didn't quite take root among those he felt needed it most until years after his death.
Marley's friend and former art director for the Wailers, Neville Garrick, said that the issue was something Bob "worried and wondered about and tried to work on." He commented that though the singer was aware of his stronghold on the white gaze, that "Bob wanted to help build a stronger bridge between black Americans and their fellow transplanted Africans in the Caribbean."
In The Book of Exodus: The Making and Meaning of Bob Marley and the Wailers' Album of the Century, Garrick is quoted as saying, "Bob look[ed] at the oppressed black people in America, 12% of the American population, and 90% of its prison population. He had to mobilize those people and get them involved in the 'Movement of Jah people.' That is where Bob Marley felt his legitimacy lay. Make the connection, bring them all together and then you have the great exodus", Garrick said.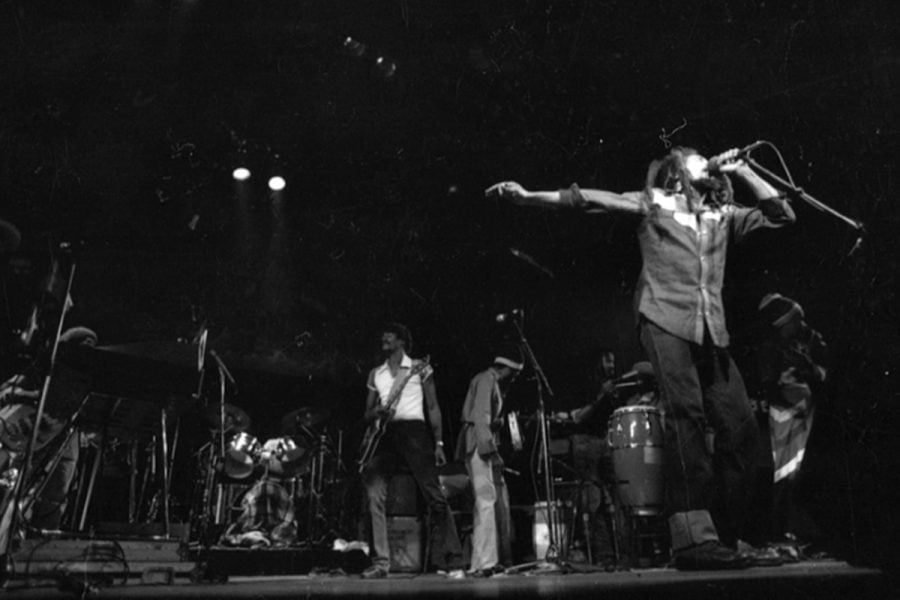 Even the Apollo performances were chosen for their intimate setting to reach Black audiences, but the timing would not allow his stardom to transcend before he passed. Bob Marley has since been lauded by US institutions with a barrage of accolades and counting. A few of these include Time Magazine Album of the Century for Exodus, a star on the Hollywood Walk of Fame and a Grammy Lifetime Achievement Award.
His music has also been accepted in the revolutionary light which he so strongly believed in, and it's fair to say, in a way, the Gong has gained his redemption.
Despite his best efforts, Could You Be Loved wasn't a hit on black radio back in 1980, but in 2021, the groovy track made the Biden + Harris 2021 Inauguration Playlist.
Presidential Inaugural Committee CEO Tony Allen said in a statement. "These songs and artistes reflect the relentless spirit and rich diversity of America. They are the score to a new chapter and will help bring people together as the Biden-Harris Administration begins its important work to unite our country".
Marley's music (Burnin' and Lootin', Get Up Stand Up, etc) was also widely referenced during 2020's George Floyd protests that swept the United States and sparked a global movement.
---